Franchising affiliations
Our affiliation proposals
Become an affiliate and open your store
The Store is the iRiparo sales point par excellence and represents the point of reference at which the customer can turn to see every need concerning his device resolved and take advantage of a wide range of additional services.
Expand your business and open an iRiparo Corner
The corner offers the possibility of introducing repair and assistance services for damaged smartphones and tablets within a commercial activity already started and inherent in the professional sector iRiparo (for example a computer store).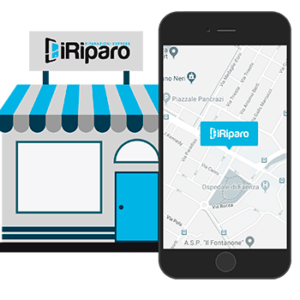 iRiparo provides assistance and repair services with limited waiting times on the main Smartphone and Tablet models of the most popular brands: Apple, Samsung, Huawei, LG, HTC, Nokia, BlackBerry, etc.
All iRiparo Stores and Corners offer a vast choice of different types of accessories, original and universal covers, trendy gadgets, hi tech products, etc., as well as many other services.
Guaranteed Training And Support
The Head Office is located in Castel Bolognese in the province of Ravenna and consists of a highly specialized staff. It guarantees constant support, support and advice for any technical and commercial needs.
Request more information on the iRiparo franchise by filling out the form below